The QuickSign Platform was designed to accommodate a wide range of digital signage applications while retaining ease of use.
Player Control & Management
Media players that are to be controlled by QuickSign are setup on the QuickSign Cloud network and can be recognized and managed from any remote location over internet. The media players will automatically obtain an IP address when your QuickSign Cloud is registered and will be found, and updated, when QuickSign is started.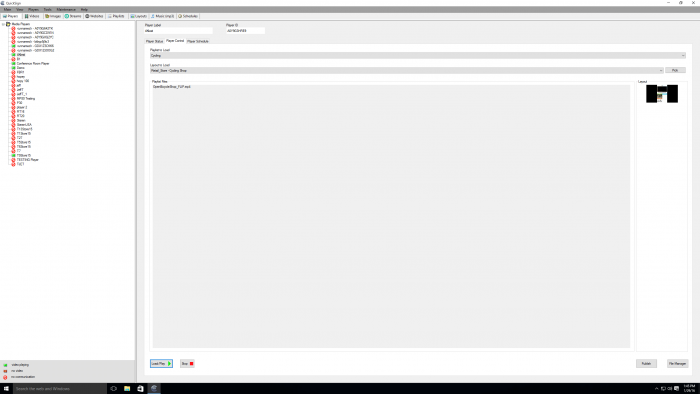 Media Management
QuickSign software provides content management with the ability to organize videos, playlists, images, channels (ATSC or stream), music and HTML layouts to be used by CE labs digital signage players. Supporting all popular media formats including Adobe Flash, Microsoft PowerPoint, PDF, and more. All major video containers and codecs are supported including MP4, WMV, FLV & AVI in both standard and HD (High Definition).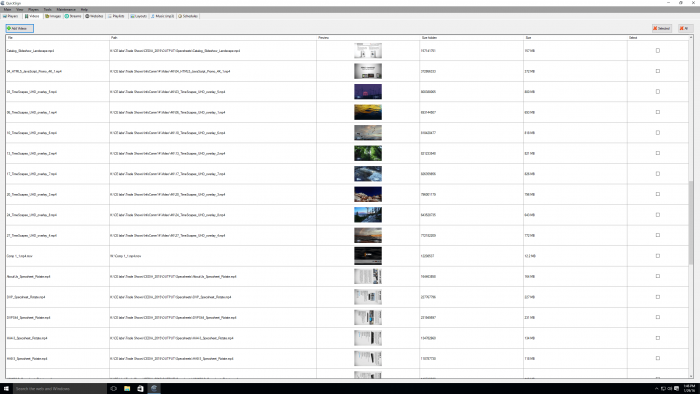 Playlist Creation & Management
Playlists can consist of videos, images, music and channels. A playlist can be scheduled to be played within any layout of your choice, at a specific time or times for all players, or an individual player.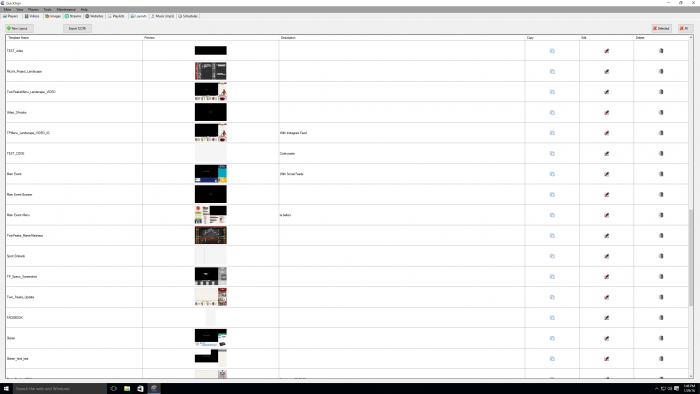 Smart Scheduling & Dayparting
Scheduling technology eliminates the headaches associated with creating and managing any size digital signage network. Our rule based scheduler takes a natural language approach to not only scheduling your content, but also utilizing various conditional play triggers including days, dates, and exact times.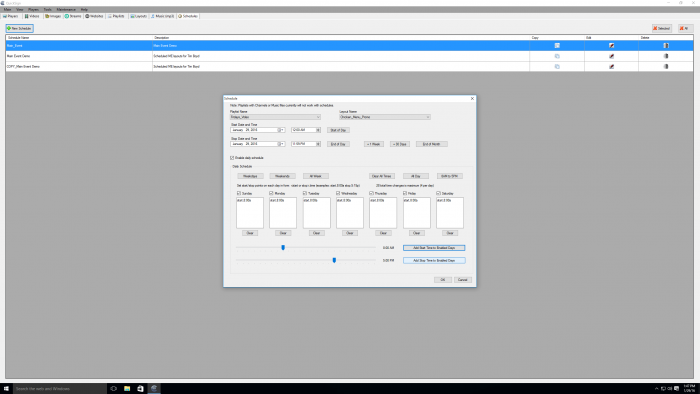 Easy GPIO Push-Button Setup
Need user interaction? No problem. Any template can become an interactive kiosk or POP display with just a settings that you control. Turn any template zone into a touch sensitive "button" which can triggering transitions to other content or perform background tasks such as sending an email or printing a receipt. The button setup function allows unlimited customization of template, playlist & scheduling functionality.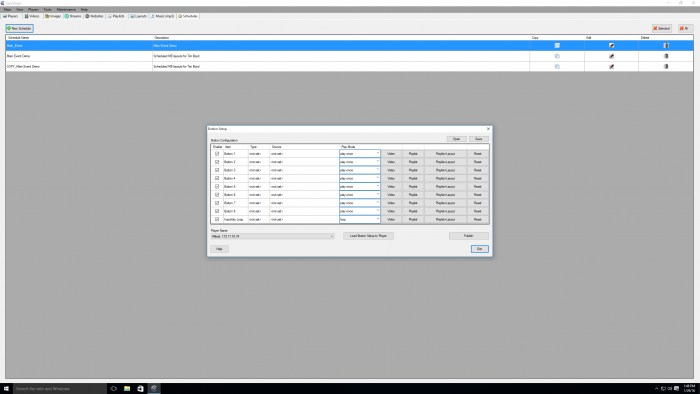 Layout Creation & Design Possibilities
Use the template designer to compose virtually any content imaginable. Unlimited "zones" of content with layering, transparency, and animation. Just drag and drop your content where you like it, giving you the power to assign distinct functionalities to zones without any HTML coding or development. View the unlimited possibilities below!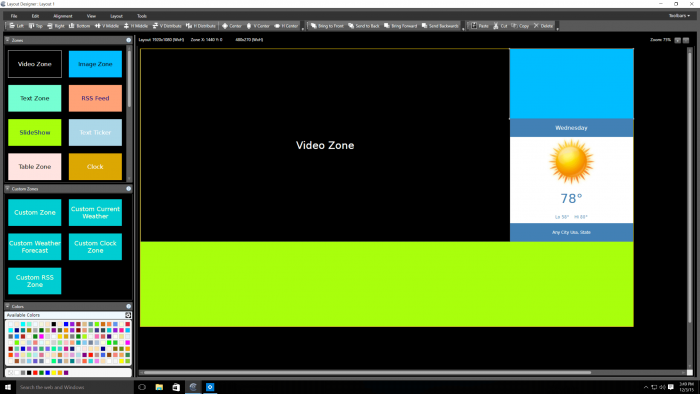 Assign functions to zones without any HTML coding or development.
HDMI In/Live TV Zone
Any source – even protected HDCP content
Layer your advertising message with  any Live TV source. Simply connect your Satellite or cable box to create a unique experience that engages, entrains and informs your guests.
SLIDESHOW ZONE
Custom Effects and transitions
Use the slideshow zone to promote new menu items, announce a co-worker's birthday or show the winners of a selfie challenge.
TEMPLATE ZONES
Professionally designed templates
Not a graphic designer? No problem, simply edit one of hundreds of predesigned template for a quick and professional digital sign.
TEXT TICKER/RSS FEED ZONE
Informative scrolling messages
Deliver custom text ticker messages or RSS feeds. Perfect for displaying local news, sports scores or stock information.
WEATHER FORECAST ZONES
Choose 3 -7 Day local weather
Use the weather zone to show your guests live, local weather forecasts. Mix and match different layouts, colors and styles to create a custom forecast.
Website Zones
100% Responsive Websites and HTML5
Want to display a website? No problem, simple use the website Zone and add any URL address. Add a touch screen and you can put your website to work as a custom kiosk.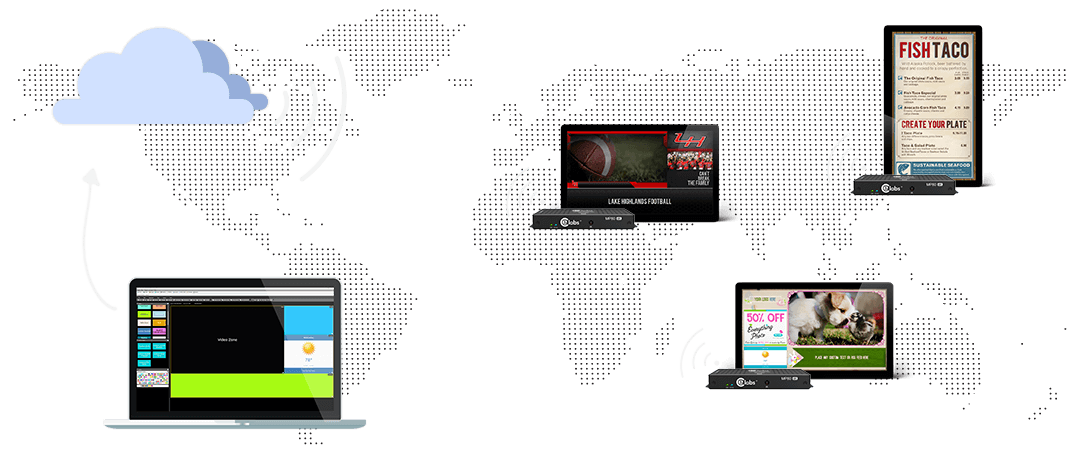 Don't take our word for it - See what your peers are saying!
We offer two versions of QuickSign for use with the MP80 media players. One is for a local network, and the other one is cloud base and allows for full control across the Internet.
DEVICE
Call Now for Pricing
800.767.6189
Quicksign app is available on qualified Android Devices. From displays to media players, we have a device for your business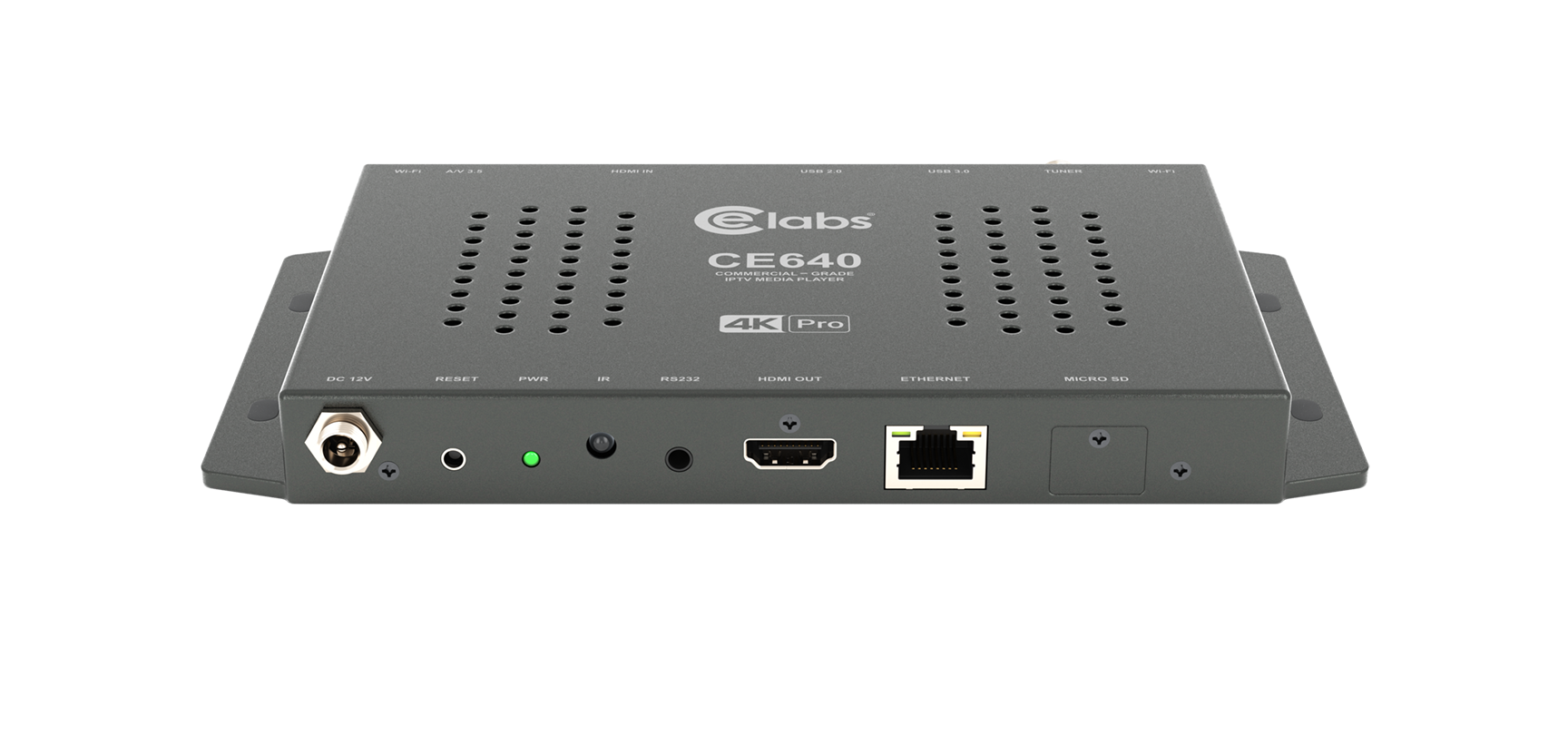 QS BASIC
QS Basic Includes:
Control Displays Remotely
Advanced Screen Design Tool
Professional Templates
Content Scheduling
Single User
Cloud Storage (5GB)
Media Downloads (10GB)
QS PRO
QS Pro Includes:
Control Displays Remotely
Advanced Screen Design Tool
Professional Templates
Content Scheduling
Multi-User
Cloud Storage (25GB)
Media Downloads (50GB)